Posts for tag: toothpaste
By James E. Mikula D.D.S., P.C.
September 14, 2021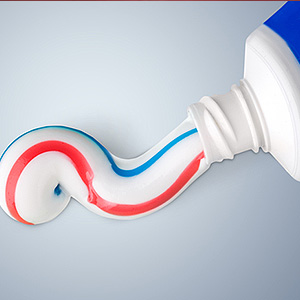 We're all interested in how our toothpaste tastes, how it freshens breath or how it brightens teeth. But those are secondary to its most important function, which is how well our toothpaste helps us remove dental plaque, that thin bacterial film on teeth most responsible for both tooth decay and gum disease.
Daily brushing and flossing clear away dental plaque, resulting in a much lower risk for dental disease. But while the mechanical action of brushing loosens plaque, toothpaste helps complete its removal. It can do this because of two basic ingredients found in nearly every brand of toothpaste.
The first is an abrasive (or polishing agent), a gritty substance that boosts the effectiveness of the brushing action (which, by the way, alleviates the need for harmful aggressive brushing). These substances, usually hydrated silica, hydrated alumina or calcium carbonate, are abrasive enough to loosen plaque, but not enough to damage tooth enamel.
The other ingredient, a detergent, works much the same way as the product you use to wash greasy dishes—it breaks down the parts of plaque that water can't dissolve. The most common, sodium lauryl sulfate, a safe detergent found in other hygiene products, loosens and dissolves plaque so that it can be easily rinsed away.
You'll also find other ingredients to some degree in toothpaste: flavorings, of course, that go a long way toward making the brushing experience more pleasant; humectants to help toothpaste retain moisture; and binders to hold bind all the ingredients together. And many toothpastes also contain fluoride, a naturally-occurring chemical that strengthens tooth enamel.
You may also find additional ingredients in toothpastes that specialize in certain functions like reducing tartar buildup (hardened plaque), easing tooth or gum sensitivity or controlling bacterial growth. Many toothpastes also include whiteners to promote a brighter smile. Your dentist can advise you on what to look for in a toothpaste to meet a specific need.
But your first priority should always be how well your toothpaste helps you keep your teeth and gums healthy. Knowing what's in it can help you choose your toothpaste more wisely.
If you would like more information on oral hygiene products and aids, please contact us or schedule an appointment for a consultation. You can also learn more about this topic by reading the Dear Doctor magazine article "Toothpaste: What's in It?"
By James E. Mikula D.D.S., P.C.
June 20, 2020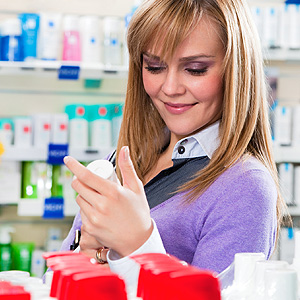 The American marketplace usually offers us plenty of buying choices — sometimes it seems too many. A case in point: the toothpaste aisle at your local supermarket.
It can be a bit overwhelming with all the razzle-dazzle packaging and exciting claims of "Whiter Teeth!" or "Fresher Breath!" But toothpaste really isn't that complicated, if you keep in mind its primary goal: to help you with your toothbrush remove disease-causing plaque from teeth surfaces.
And the vast majority can, thanks to ingredients you'll find in just about every brand. All toothpastes, for example, contain some form of abrasive material that boosts the mechanical action of brushing to remove plaque. This isn't new: the ancient Egyptians used ox-hoof ashes, burnt eggshells and pumice as abrasives. Today you'll find hydrated silica (originating from sand), hydrated alumina or calcium carbonate as abrasives on the ingredient list.
You also need some form of detergent to help loosen and break down substances that won't dissolve in water. Toothpaste detergent is much milder than that which you use on your dishes. The most common is sodium lauryl sulfate, a foaming agent found in shampoo and other beauty products. It's been used safely for half a century in toothpaste, although it can irritate the inner linings of some people's mouths. If this is a problem for you, you should look for toothpaste with a different detergent.
There is also a myriad of other ingredients, including binders, humectants (which help the toothpaste retain moisture) and flavorings. You may also find bleaching agents that help brighten your teeth, although they may not be strong enough to remove deep staining, something we would need to help you with.
And let's not forget one other frequent ingredient: fluoride. This natural chemical strengthens enamel and helps fight tooth decay as part of a disease prevention strategy. It's perhaps the most valuable ingredient you'll find in toothpaste, so make sure it's in your chosen brand.
If you want to simplify your decision, choose toothpaste with the seal of acceptance from the American Dental Association. The seal indicates the claims of the toothpaste manufacturer have been independently verified. You can trust those brands to help keep your teeth clean and free from disease. In the end, that's really what you want from your toothpaste.
If you would like more information on the right toothpaste for you, please contact us or schedule an appointment for a consultation. You can also learn more about this topic by reading the Dear Doctor magazine article "Toothpaste: What's in it?"
By James E. Mikula
April 05, 2013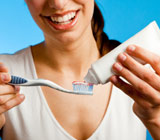 You use toothpaste every day — don't you? But how much do you really know about what's inside the tube: namely, the white, sticky stuff that keeps your teeth clean and your breath fresh? Take this True/False quiz and find out!
True of false: Powdered charcoal, brick dust and crushed bones were once ingredients in toothpaste. TRUE
Many years ago, these gritty abrasive materials were used to make toothpaste. Today, abrasives are still used — but they're much gentler. Compounds like hydrated silica or alumina, calcium carbonate, and dicalcium phosphate have proven effective at cleaning and polishing tooth surfaces without damaging the enamel.
True of false: Fluoride was first introduced into toothpaste in 1955. FALSE
Arguably toothpaste's most important ingredient, fluoride was used as early as 1914. But its mass-marketing debut came with the Crest brand in the mid-1950s. Today, no toothpaste without fluoride can receive the American Dental Association's Seal of Approval. That's because it has been shown to strengthen tooth enamel and help prevent tooth decay.
True of false: Detergent is a common ingredient of toothpaste. TRUE
But it isn't the same kind you do laundry with. Detergents — also called surfactants, because they act on the surfaces of liquids — help to loosen and break down deposits on your teeth, which can then be rinsed away. Like other health and beauty products, many toothpastes use a gentle detergent, derived from coconut or palm kernel oil, called sodium lauryl sulfate.
True of false: Whitening toothpastes work, to some degree, on all stains. FALSE
Whether the whitening agents in toothpaste will work for you depends on why your teeth don't look white in the first place. The abrasives and enzymes in these toothpastes can help remove "extrinsic" stains: those on the surface of your teeth. But for "intrinsic" stains — that is, internal discoloration — they probably won't help. In that case, you may need to get professional bleaching treatments.
True of false: Toothpastes made for sensitive teeth have substances that block pain transmission. TRUE
Potassium nitrate and strontium chloride can block the sensation of pain that may occur when dentin — the material that makes up most of the inside of teeth, and is normally covered by enamel — becomes exposed. Fluoride, too, helps reduce sensitivity. But the benefits of reduced tooth sensitivity may take a few weeks to really be felt.
If you have questions about toothpastes or oral hygiene, please contact us or schedule an appointment for a consultation. You can learn more in the Dear Doctor magazine article "Toothpaste — What's In It?"