Posts for tag: smile makeover
By James E. Mikula D.D.S., P.C.
December 05, 2017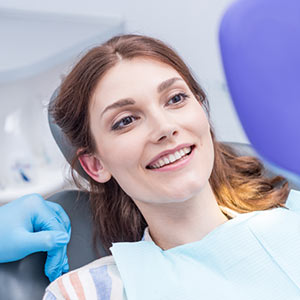 The holidays are a season for giving. At this time of year, lots of us spend hours rushing around, looking for the perfect gifts for people we care about. But sometimes, amidst all the hustle and bustle, it doesn't hurt to step back and think about yourself a little. If a better-looking smile has been on your list but you haven't taken the first steps, the holiday season might be the right time to give yourself a gift.
Many smile problems, like discolored, chipped or uneven teeth, can be resolved with veneers—wafer-thin porcelain shells that cover the front surfaces of teeth. Veneers are custom-made just for you: They can have a pearly luster to match your existing teeth, or be Hollywood-white for a dazzling red-carpet smile. In just a few visits to the dental office, you can have the smile you've always wanted—and a whole new look for the New Year.
If damaged or missing teeth are what's bothering you, you'll be happy to know that there are lots of good options for replacing them. If the tooth's roots are still in good shape, a crown or cap could be the answer. This is a sturdy replacement for the entire visible part of the tooth that not only looks great, but also functions well in your bite—and can last for years to come.
If teeth are missing or can't be saved, we offer several options for replacement, including fixed (non-removable) bridgework and dental implants. A tried-and-true method for replacing one or more missing teeth, bridges are firmly supported by healthy teeth next to the gap in your smile. These teeth must be prepared to receive the bridge by having some of the tooth's surface removed.
Dental implants are today's premier option for tooth replacement. In this high-tech system, a root-like titanium insert, placed directly into the bone beneath the gum, forms a solid anchorage for the visible part of the replacement tooth. Implants look and feel completely natural, and can last for many years. Plus, they don't require any work to be done on nearby teeth.
What kind of smile makeover is right for you? Just ask us! We will be happy to take a look at your smile and recommend a treatment plan. And in this season of generosity, there's no better gift you can give yourself than a bright new smile.
You can learn more about smile makeovers by reading the Dear Doctor magazine article "Beautiful Smiles by Design."
By James E. Mikula D.D.S., P.C.
March 31, 2015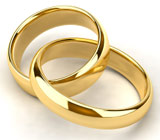 For a bride, there is so much to remember when planning the wedding — invitations, a dress, flowers, the site, the caterers, the cake, the photographer — the list goes on and on. In the midst of all these things, don't let a very important piece of the plan be forgotten — your smile!
Your wedding will be celebrated every year on your anniversary and commemorated in beautiful photos at any time. It is a special occasion you, your family, and your friends will always remember. But how will you and your family look in those photos? You have an opportunity to get makeovers that will make your smiles shine radiantly, and not only in your album. Your makeover will improve your appearance, your self-confidence, and your oral health far into the future.
Start with a visit to your dentist to assess your current situation and discuss your goals and dreams. Each person's situation will be different. At a minimum you may need a professional cleaning to make sure that your teeth and gums are healthy. Get started on treating any cavities or gingivitis (gum inflammation). If you haven't already, now is a great time to establish healthy dental hygiene habits including proper daily brushing and flossing.
You may feel that your teeth are discolored and need to be whiter and brighter. Your upper and lower jaws may not meet properly for the most effective biting and chewing. Your teeth may be crowded or misshapen. All these things and more can be modified and repaired with today's dentistry.
Teeth can be whitened by bleaching in the dentist's office or with products that can be used at home under a dentist's supervision.
Orthodontia may be needed to repair your bite. Today orthodontia may be done either with traditional braces, or with clear aligners. Remember that this process works slowly, so start well in advance of your wedding day.
After your teeth are properly aligned, your dental team can work on subtle contouring, overall shape and color changes for individual teeth, using techniques such as porcelain laminate veneers. Temporary veneers can be made so that you can try out your new look before the final installation.
Wedding planning works best when started early. To make sure you, your new spouse, and your family look and feel their best, remember to include smile makeovers in your plan.
Contact us today to schedule an appointment to discuss your questions about wedding smile makeovers. You can also learn more by reading the Dear Doctor magazine article "Wedding Day Smiles."
By James E. Mikula
February 26, 2013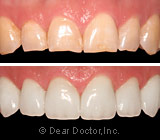 A veneer is a thin layer of dental ceramic tooth-colored restorative material, usually made of porcelain, which replaces some of the tooth's enamel and is physically bonded to it.
You might want to consider porcelain veneers:
If your teeth are severely discolored. (For best results we may recommend that your teeth be whitened before veneering them.)
If your teeth cannot be evenly whitened or matched by other means.
If your teeth are misshapen or worn, you can change their size or shape for optimum aesthetic appeal.
If you don't want to have your teeth prepared (drilled), prepless veneers may be an option to change your smile.
If you want as little natural tooth structure prepared as possible to improve your smile.
If you would like something temporary first to "test-drive" your new smile, then:
"Provisional veneers" allow you to try out your new smile and give us feedback before the final permanent veneers are placed.
If you want to improve your smile for just one tooth or even multiple teeth.
If you want long-lasting restorations — veneers can last from seven to twenty years or more.
And the top reason is:
Porcelain laminate veneers are among the most aesthetic ways to create a more beautiful, yet normal, looking smile.
Tell us what you want to change about your current smile, and we can tell you whether veneers are right for you. Contact us today to schedule an appointment or to discuss your questions about cosmetic dentistry. You can learn more by reading about porcelain veneers in Dear Doctor magazine.