Posts for tag: orthodontics
By James E. Mikula D.D.S., P.C.
February 25, 2016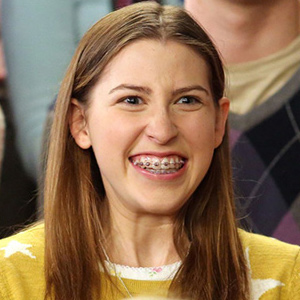 Fans of the primetime TV show The Middle were delighted to see that high school senior Sue, played by Eden Sher, finally got her braces off at the start of Season 6. But since this popular sitcom wouldn't be complete without some slapstick comedy, this happy event is not without its trials and tribulations: The episode ends with Sue's whole family diving into a dumpster in search of the teen's lost retainer. Sue finds it in the garbage and immediately pops it in her mouth. But wait — it doesn't fit, it's not even hers!
If you think this scenario is far-fetched, guess again. OK, maybe the part about Sue not washing the retainer upon reclaiming it was just a gag (literally and figuratively), but lost retainers are all too common. Unfortunately, they're also expensive to replace — so they need to be handled with care. What's the best way to do that? Retainers should be brushed daily with a soft toothbrush and liquid soap (dish soap works well), and then placed immediately back in your mouth or into the case that came with the retainer. When you are eating a meal at a restaurant, do not wrap your retainer in a napkin and leave it on the table — this is a great way to lose it! Instead, take the case with you, and keep the retainer in it while you're eating. When you get home, brush your teeth and then put the retainer back in your mouth.
If you do lose your retainer though, let us know right away. Retention is the last step of your orthodontic treatment, and it's extremely important. You've worked hard to get a beautiful smile, and no one wants to see that effort wasted. Yet if you neglect to wear your retainer as instructed, your teeth are likely to shift out of position. Why does this happen?
As you've seen firsthand, teeth aren't rigidly fixed in the jaw — they can be moved in response to light and continuous force. That's what orthodontic appliances do: apply the right amount of force in a carefully controlled manner. But there are other forces at work on your teeth that can move them in less predictable ways. For example, normal biting and chewing can, over time, cause your teeth to shift position. To get teeth to stay where they've been moved orthodontically, new bone needs to form around them and anchor them where they are. That will happen over time, but only if they are held in place with a retainer. That's why it is so important to wear yours as directed — and notify us immediately if it gets lost.
And if ever you do have to dig your retainer out of a dumpster… be sure to wash it before putting in in your mouth!
If you would like more information on retainers, please contact us or schedule an appointment for a consultation. You can learn more in the Dear Doctor magazine articles "The Importance of Orthodontic Retainers" and "Why Orthodontic Retainers?"
By James E. Mikula D.D.S., P.C.
September 08, 2014
Compared to traditional braces, orthodontic clear aligners seem miraculous in many ways, almost too good to be true. You may be wondering if they really work. The answer is yes — but they are not for everyone.
What are orthodontic aligners and how do they work?
Clear orthodontic aligners are an alternative to traditional braces that are used to move your teeth and transform your smile without much interference to your daily life. They are removable trays made of a clear plastic material that is essentially invisible.
When using aligners, a sequence of slightly different trays is custom-made to fit over your teeth. You must wear each one 20 hours a day for two weeks before changing to the next in the series. The aligners are computer generated, designed by state-of-the-art techniques based on models and images of your own teeth. They work because slight changes in the sequential aligners gradually shift your teeth. If they are worn consistently, the process takes from six months to two or three years.
Advantages over traditional braces are:
The aligners can be removed for eating, drinking, brushing, flossing and social occasions.
They have no rough edges or wires, making them more comfortable.
Changes become visible quickly as your teeth move into their new, better positions.
Clear aligners are a good solution for correcting mild to moderately crowded or incorrectly spaced teeth. They are most effective if your back teeth already fit together properly. Clear aligners are usually effective in correcting simpler or tipping movements of teeth in two dimensions. For more complex movements, traditional braces may be required. Clear aligners are usually recommended for adults whose teeth and jaws are fully developed, and not for children.
When do you need traditional fixed braces?
Traditional braces are fixed brackets attached to the teeth through which narrow, flexible wires are threaded. They may be necessary if your teeth do not meet properly, creating too much overbite or underbite. Closing spaces where teeth are missing, rotating teeth, or other complicated situations probably make you a better candidate for traditional braces.
Each particular situation is unique. To find out if clear aligners are right for you, make an appointment with us for an assessment and diagnosis of your own situation. For more information see the Dear Doctor magazine article "Clear Orthodontic Aligners."
By James E. Mikula D.D.S., P.C.
January 14, 2014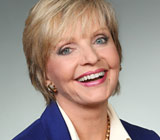 Florence Henderson has inspired generations of people through her portrayal of America's most beloved TV mother, Carol Brady, on one of the longest running situational comedies, The Brady Brunch. Today Florence is still a role model but for a much different audience: senior citizens.
Henderson created the FloH Club as an organization to assist senior citizens with understanding and embracing technology, as she described in an interview with Dear Doctor magazine. "I was inspired to create the FloH Club because of my own fear of technology and because I didn't want to keep asking my children for help," she said.
And while Henderson was blessed with naturally straight teeth and has had no cosmetic work done, she is not opposed to it. "I wouldn't care how old I was, if I had misaligned teeth or felt I needed cosmetic dentistry I would certainly do it!"
One teeth-straightening option many adults consider is clear orthodontic aligners. They are an excellent way for self-conscious adults to align their teeth without feeling that they will appear as an awkward "brace-faced" youth — a look that is commonplace for the teenage years.
But what are clear aligners? They are an alternative system to traditional braces that use a sequence of individual, custom-fitted trays that are clear and removable to gradually straighten teeth. They are usually recommended for correcting mild to moderate spacing problems or crowding of the teeth, and for cases in which there are no major issues with your bite (i.e., your back teeth fit together properly and biting forces are distributed evenly on all of your teeth).
To learn more about this method of aligning teeth, you can continue reading the Dear Doctor magazine article "Clear Orthodontic Aligners." Or you can contact us today to schedule an appointment so that we can conduct a thorough examination and discuss what treatment options will be best for you. And to read the entire interview with Florence Henderson, please see the Dear Doctor article "Florence Henderson."