Posts for: May, 2017
By James E. Mikula D.D.S., P.C.
May 23, 2017
Most children's permanent teeth erupt on a fairly predictable schedule. Sometimes, though, one or more teeth might not develop as they should — or at all.
These absent teeth pose functional problems for chewing and hygiene, which can affect long-term dental health. But they can also have a disruptive effect on an otherwise attractive smile if the missing teeth are the upper lateral incisors in the most visible part of the smile.
You normally find this pair of teeth on either side of the upper central incisors (the two front-most teeth). On the other side of the lateral incisors are the canine or eye teeth, known for their pointed appearance. Without the lateral incisors, the canines tend to drift into the space next to the central incisors. This can produce an odd appearance even a layperson will notice: only four teeth where there should be six!
It's possible to correct this abnormality, but it will take time and expense. The first step is usually to move the teeth in the upper jaw with braces to their correct position. This puts teeth where they should be and also opens space between the canines and central incisors so we can eventually replace the missing teeth with dental implants.
But the key to all this is timing. It's usually appropriate to undertake tooth movement with braces during late childhood or adolescence. But implants shouldn't be installed until the person's jaw fully matures, usually in early adulthood. An implant placed before then could eventually become misaligned.
To accommodate the time between bite correction and implant placement, the patient can wear a retainer appliance that will keep the newly created space open. We can also attach artificial teeth to the retainer to camouflage the empty space.
It usually takes a team of a family dentist, an orthodontist and a surgeon to see this kind of "smile makeover" project through, possibly over several years. But the gains in better aesthetics and health are well worth the time and expense.
If you would like more information on replacing non-developing teeth, please contact us or schedule an appointment for a consultation. You can also learn more about this topic by reading the Dear Doctor magazine article "When Permanent Teeth Don't Grow."
By James E. Mikula D.D.S., P.C.
May 08, 2017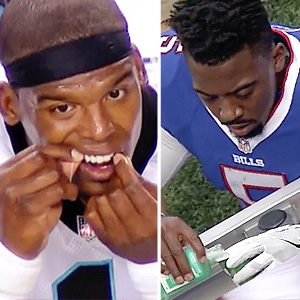 Everyone knows that in the game of football, quarterbacks are looked up to as team leaders. That's why we're so pleased to see some NFL QB's setting great examples of… wait for it… excellent oral hygiene.
First, at the 2016 season opener against the Broncos, Cam Newton of the Carolina Panthers was spotted on the bench; in his hands was a strand of dental floss. In between plays, the 2105 MVP was observed giving his hard-to-reach tooth surfaces a good cleaning with the floss.
Later, Buffalo Bills QB Tyrod Taylor was seen on the sideline of a game against the 49ers — with a bottle of mouthwash. Taylor took a swig, swished it around his mouth for a minute, and spit it out. Was he trying to make his breath fresher in the huddle when he called out plays?
Maybe… but in fact, a good mouthrinse can be much more than a short-lived breath freshener.
Cosmetic rinses can leave your breath with a minty taste or pleasant smell — but the sensation is only temporary. And while there's nothing wrong with having good-smelling breath, using a cosmetic mouthwash doesn't improve your oral hygiene — in fact, it can actually mask odors that may indicate a problem, such as tooth decay or gum disease.
Using a therapeutic mouthrinse, however, can actually enhance your oral health. Many commonly available therapeutic rinses contain anti-cariogenic (cavity-fighting) ingredients, such as fluoride; these can help prevent tooth decay and cavity formation by strengthening tooth enamel. Others contain antibacterial ingredients; these can help control the harmful oral bacteria found in plaque — the sticky film that can build up on your teeth in between cleanings. Some antibacterial mouthrinses are available over-the-counter, while others are prescription-only. When used along with brushing and flossing, they can reduce gum disease (gingivitis) and promote good oral health.
So why did Taylor rinse? His coach Rex Ryan later explained that he was cleaning out his mouth after a hard hit, which may have caused some bleeding. Ryan also noted, "He [Taylor] does have the best smelling breath in the league for any quarterback." The coach didn't explain how he knows that — but never mind. The takeaway is that a cosmetic rinse may be OK for a quick fix — but when it comes to good oral hygiene, using a therapeutic mouthrinse as a part of your daily routine (along with flossing and brushing) can really step up your game.
If you would like more information about mouthrinses and oral hygiene, contact us or schedule a consultation.