Posts for: November, 2014
By James E. Mikula D.D.S., P.C.
November 26, 2014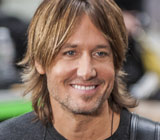 He once lived in Australia, wore his hair in a mullet, and played guitar in a band called The Ranch. Today, country music star Keith Urban looks different than he did when he started out — and it's not just the mullet that's changed. As before-and-after pictures show, he's had a smile makeover. His teeth, which were dull yellow in color, and used to have a large gap in front, are now white and shiny. The gap is still there — though it has been reduced to a more modest size. How did he manage to upgrade his image, yet keep part of his signature "look" intact?
Cosmetic dentistry has a number of ways to improve the appearance of a smile like Keith's. One is tooth whitening. It's a simple procedure that can be done in our office or at your home; either way, it's an effective treatment that offers great value. In-office whitening, using the most concentrated solutions under our direct supervision, will give you the fastest results. We can also prepare a take-home kit, with custom-made trays and safe bleaching gels you can use at home. You'll get similar results, but it will take a bit longer.
Of course, whitening isn't permanent (though it can be repeated when necessary); not all teeth can be lightened as much as you might like; and it doesn't correct gaps or unevenness. There's another treatment that does, however: dental veneers. These are wafer-thin coverings made of porcelain, which are bonded to the prepared surfaces of your teeth. They are available in a number of shades — from natural to "Hollywood white" — and can even hide minor chips or spacing problems. That's why veneers are often the treatment of choice when you're looking for a "red carpet" smile.
Perhaps the best thing about veneers is that they give you plenty of choices when it comes to designing your smile. You can choose how white you'd like your smile to be, and even fix some "flaws" — or not! So how much you choose to close that gap in your teeth is up to you… but if you're asking our opinion, the mullet has to go.
If you would like more information on dental veneers, please contact us or schedule an appointment for a consultation. You can learn more about this topic in the Dear Doctor magazine articles "Beautiful Smiles by Design" and "Porcelain Veneers."
By James E. Mikula D.D.S., P.C.
November 11, 2014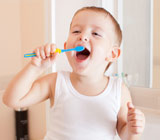 Caring for a young child can be overwhelming at times. Sometimes, it may feel like you can't read enough books to learn the correct way to do everything from potty training to feeding. It's also important to teach your child healthcare habits during these crucial years, so that they continue these habits for a lifetime!
Here are a few simple ways you can help your child to institute lifetime oral care habits.
DO: Encourage your Child to Brush Every Day with Fluoride Toothpaste. Fluoride will help make your child's teeth more resistant to tooth decay. You should use a thin smear of fluoride toothpaste for children under age two and a pea-sized amount for older children. At age two, you can also begin empowering your child to brush, but make sure that you supervise and finish the job. Your child will probably need your help until around the age of six.
DON'T: Share your Germs. Did you know that children are not born with the bacteria that cause tooth decay? In fact, the bacteria are transmitted to them from adults! You should never share a cup or spoon with your child. Also, next time you kiss your child, kiss him or her on the cheeks instead of the lips. Believe it or not, you can transmit harmful bacteria through this quick little kiss.
DO: Limit your Child's Sugar Intake. When your child consumes sugar, the bacteria use the sugar to produce acids that dissolve tooth enamel, eventually leading to tooth decay. Saliva can neutralize those acids, but it needs enough time, 30 to 60 minutes, to work its magic. That is why it is important to limit sugar intake between meals.
DON'T: Give Your Child a Bottle at Night. Juice, milk and even breast milk contain sugars that promote tooth decay, in particular during sleep, when less saliva is being produced. So, though it may be tempting, do not let your child go to bed with a bottle.
DO: Take your Child to the Dentist Early. The American Academy of Pediatric Dentistry recommends that all children have their first dental visit by the age of one. Your toddler will benefit from regular dental visits, because we will monitor tooth decay, correct brushing techniques and also, most importantly, ensure that he or she is comfortable in the dental chair.
DON'T: Allow your Child to Suck His or Her Thumb Past Age Three. Thumb sucking for comfort is a very normal behavior for babies and toddlers. However, if your child constantly sucks his or her thumb past the age of three, it can affect teeth alignment and jaw development.
If you would like more information about oral care for your child, please contact us or schedule an appointment for a consultation. You can also learn more by reading the Dear Doctor magazine article "Dentistry and Oral Health for Children."