Posts for: March, 2014
By James E. Mikula D.D.S., P.C.
March 18, 2014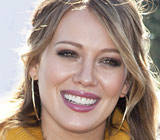 Many Hollywood luminaries use porcelain veneers to enhance their smiles. Take actress and singer Hilary Duff, who, according to People magazine, had veneers placed on her two front teeth after chipping them on a microphone during what must have been an extremely energetic performance.
Well, you don't have to be a Hollywood star to benefit from a smile enhanced with porcelain veneers. If you have small chips, cracks, slight tooth rotations or minor spacing problems, veneers may be able to give you back your smile — or an even better one.
The word "veneer" refers to a super-thin covering, and in dentistry a veneer is a thin layer of porcelain that replaces your natural tooth enamel. Porcelain is the material of choice because of its strength, translucency, and ability to resist erosion.
In the right hands, dental porcelain can mimic tooth enamel perfectly. To make veneers, a skilled dental technician will mix porcelain powder (in a shade specified by the dentist) with water and then fire the material in an oven like pottery; the porcelain is built up in layers for a truly lifelike effect.
Before a veneer is bonded to a tooth, often we need to remove a tiny bit of the tooth's existing enamel so that the final effect will not be too bulky. The procedure is virtually painless and can be completed in as little as two visits. Because enamel is removed, this particular cosmetic treatment is not reversible. Sometimes veneers can be added directly onto the tooth surface without any tooth reduction and therefore are reversible if used in this way.
Once you have veneers, please keep in mind that while extremely strong, porcelain veneers are not indestructible; you won't want to do things like crunch ice or break nuts open with your teeth. And if you are a teeth-grinder, you should wear a nightguard to protect your beautiful new smile. With proper care, your veneers will last 20 years or more.
If you would like more information about porcelain veneers, please contact us or schedule an appointment for a consultation. You can also learn more by reading the Dear Doctor magazine article "Smile Design Enhanced With Porcelain Veneers." Dear Doctor also has more on "Cosmetic Dentistry: A Time For Change."
By James E. Mikula D.D.S., P.C.
March 03, 2014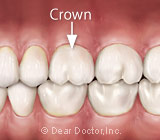 You've taken good care of your teeth all your life, with brushing, flossing and regular visits to the dentist. But chances are that someday (or maybe even now) you may be told that you need a restoration on one or more of your teeth. Oftentimes, that means a crown.
But what exactly is a crown, and why is it used? We're glad you asked!
In the course of time, natural teeth may need to be restored for a variety of reasons. As we age, our teeth may eventually become chipped or discolored. They can become weak and prone to cracking, or actually break due to tooth decay or trauma. Treating tooth decay may require a filling so large that there isn't much tooth surface left. Or, getting a dental implant (which replaces the roots of the tooth) means that you will need a replacement for the visible part of the tooth as well.
A crown (sometimes called a cap) is a common type of dental restoration. It's a way of replacing the tooth structure, in part or in full. A crown can cover the whole visible portion of the tooth, right down to the gum line. Since it's custom-made just for you, it is designed to fit in and function just like the rest of your teeth. And because it's composed of an extremely hard substance (gold, porcelain, ceramic, or some combination of these materials) it's made to last for a long time.
If a dental examination shows that you need a crown, here's how the process works: First, any decay is removed from the affected tooth, and it is prepared for restoration. Then, a 3-D replica of the tooth (and adjacent teeth) is made. This model is used to create a crown that matches your natural teeth. If you're getting a tooth-colored crown, the exact shade of the adjacent teeth will be duplicated as closely as possible.
After the crown has been fabricated, the tooth is made ready to receive the restoration. The crown is adjusted to mesh perfectly with the prepared tooth, and to function with the whole bite. Then, it is cemented or bonded into place. When it's all done, it can be hard to tell that you had any dental work done at all.
If you're thinking that it's a challenge to make an "artificial" tooth fit in with your natural teeth, you're right — but we do it all the time! Creating a superb-looking restoration is a blend of science and art. It takes a careful eye to match tooth colors and to adjust biting surfaces and spacing for a perfect fit. But when experienced dental professionals and patients work together, the results can make us both proud of the achievement.
If you would like more information about crowns, please contact us or schedule an appointment for a consultation. You can also learn more about this topic by reading the Dear Doctor magazine articles "Porcelain Crowns & Veneers" and "Gold or Porcelain Crowns."