Posts for: July, 2013
By James E. Mikula
July 23, 2013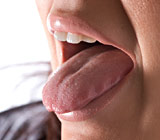 Bad breath, or halitosis, is bad news in any social situation — whether you're having an intimate conversation with a date or simply saying hello as you shake someone's hand. Halitosis, from the Latin halitus (exhalation) and the Greek osis (a condition or disease causing process), can also be a warning that something's amiss healthwise — usually in your mouth (85% to 90% of the time) but sometimes elsewhere in your body.
Most Common Causes of a Malodorous Mouth
Most unpleasant odors emanating from the mouth result from the processing of food remnants by certain strains of bacteria that typically populate the oral environment. As they feed on food particles, these microbes produce nasty-smelling byproducts — mostly volatile sulfur compounds, which have a distinctive "rotten egg" odor. That's why diligent dental care is front and center when it comes to banishing bad breath. Brushing, flossing and routine professional cleanings will help ensure that traces of last night's dinner or your midday candy bar don't stick around for bacteria to dine on.
Especially important, but often overlooked, during routine home oral care is the back of the tongue. This is actually the most common location for mouth-related bad breath to develop. Unlike the front of your tongue, which is bathed in saliva, the back of the tongue is relatively dry and poorly cleansed — an ideal setting in which microbe-laden plaque can form and flourish.
Even if you're industrious when it comes to brushing and flossing, food debris can get trapped and plaque can build up in hard-to-reach places such as between teeth (interdental), under the gums (subgingival) and around faulty dental work (e.g., ill-fitting crowns or veneers) contributing to overall oral odor. Other culprits include unclean dentures and oral disease such as tooth decay, gum disease, and abscesses.
Halitosis may accompany dry mouth, or xerostomia (xero – dry, stomia – mouth), a condition in which the normal flow of saliva, which cleanses the oral environment and keeps odor-producing bacteria in check, is interrupted. Most of us wake up with a temporary case of halitosis or "morning breath" because our salivary glands are less active while we sleep, but it usually disappears after a good brushing. If dry mouth is persistent, other possible triggers include: breathing through your mouth, a medication side effect, fasting or dehydration, or even stress.
Clearly, maintaining or restoring a healthy oral environment is your greatest defense against halitosis. Take care of your teeth and there's no reason your breath should be any less attractive than your smile!
If you would like more information about halitosis and ways to prevent or treat it, please contact us or schedule an appointment for a consultation. You can also learn more about this topic by reading the Dear Doctor magazine article "Bad Breath."
By James E. Mikula
July 08, 2013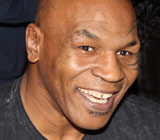 Mike Tyson's gap-toothed smile is part of athlete-turned-celebrity's signature look. During his two-decade career as a professional boxer, the former heavyweight champion has been known for both giving — and occasionally receiving — knockout punches. But the story of how he lost one set of front teeth is a bit more unusual.
In a recent interview with the Las Vegas Review Journal, Tyson's wife Kiki stated that one of the champ's major dental dilemmas didn't come from blows inside the ring. In fact, she said, Tyson lost the teeth after being head-butted by his pet tiger, Kenya.
It's too bad Tyson wasn't wearing a mouthguard before he decided to play with kitty.
Fight fans know that boxers always put in a mouthguard before they enter the ring. But the pugilistic pursuit is just one among the two-dozen-odd sports for which the American Dental Association recommends the use of custom mouthguards. Others include baseball, skateboarding, surfing and bicycling. (Maybe horsing around with tigers should be added to the list!)
Why is it so important for participants in athletic activities to use this piece of protective gear? According to the U.S. Centers for Disease Control, sports-related dental injuries account for over 600,000 emergency-room visits each year. Many of these injuries require further dental treatment; some may lead to tooth loss and require costly replacement. Not wearing a mouthguard makes an athlete 60 times more likely to sustain harm to the teeth, according to the American Dental Association. So there's really no contest.
You can find basic, off-the-shelf mouthguards in limited sizes at many sporting goods stores. But for a reasonable cost, we can provide you with a properly fitted dental appliance that's custom-made just for you. Starting with a precise model of your teeth, individual mouthguards are crafted from impact-resistant materials which are designed to be strong, comfortable, resilient — and effective.
Research shows that custom-made mouthguards offer superior quality and protection. So if you or your loved ones like to get out on the playing field, don't neglect this important piece of sporting equipment. And watch out for the cat.
If you have questions about mouthguards, please contact us or schedule an appointment for a consultation. You can learn more in the Dear Doctor magazine article "Athletic Mouthguards."