Posts for: April, 2013
By James E. Mikula
April 20, 2013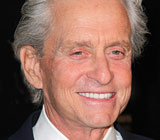 Actor Michael Douglas shocked TV audiences across the country when he announced on the David Letterman Show in 2010 that he has stage IV oral cancer. Fortunately, the cancer had not spread and his radiation and chemotherapy treatments were successful. This year, Douglas teamed up with the Oral Cancer Foundation to warn others about the dangers of the disease and the importance of early detection. In particular, he wants younger people to know that even if they don't smoke and drink a lot, as he admitted to Letterman that he did, they are still at risk.
As Douglas states in a PSA he made with the foundation, "the fastest growing segment of the people developing oral cancers are young, non smokers." That's due to a strain of the Human Papilloma Virus known as HPV16 that can be transmitted through oral sex. So it's important to avoid risky sexual behaviors and to be screened regularly for this devastating disease that claims one life every hour in the U.S., according to the Oral Cancer Foundation.
An oral cancer screening is a simple visual and tactile exam done right here at the dental office. We will feel your neck for lumps and inspect your lips and all inside surfaces of the mouth, including the back of your throat, for any suspicious signs. If any are found, a biopsy (laboratory analysis of a tissue sample) can be ordered.
Most oral cancers are "squamous" (small scale-shaped) cell carcinomas that occur in the lining of the mouth and are often preceded by recognizable changes (lesions) of the oral membranes. White or red patches begin to form in the pre-cancerous stage, and as the cancer develops, a non-healing ulcer may appear. If you notice any such changes in your mouth, please let us know.
Michael Douglas ends his PSA with the following plea: "So please, the next time you visit your dentist or your medical doctor, ask for this simple screening. Finding oral cancer in its earliest stages may save your life." We agree, which is why we always perform this screening during your regular dental check-up. If it's been a while since your last appointment, please come in and see us.
If you would like more information about oral cancer, please contact us or schedule an appointment for a consultation. You can learn more about the disease in the Dear Doctor magazine article "Oral Cancer."
By James E. Mikula
April 05, 2013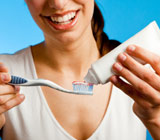 You use toothpaste every day — don't you? But how much do you really know about what's inside the tube: namely, the white, sticky stuff that keeps your teeth clean and your breath fresh? Take this True/False quiz and find out!
True of false: Powdered charcoal, brick dust and crushed bones were once ingredients in toothpaste. TRUE
Many years ago, these gritty abrasive materials were used to make toothpaste. Today, abrasives are still used — but they're much gentler. Compounds like hydrated silica or alumina, calcium carbonate, and dicalcium phosphate have proven effective at cleaning and polishing tooth surfaces without damaging the enamel.
True of false: Fluoride was first introduced into toothpaste in 1955. FALSE
Arguably toothpaste's most important ingredient, fluoride was used as early as 1914. But its mass-marketing debut came with the Crest brand in the mid-1950s. Today, no toothpaste without fluoride can receive the American Dental Association's Seal of Approval. That's because it has been shown to strengthen tooth enamel and help prevent tooth decay.
True of false: Detergent is a common ingredient of toothpaste. TRUE
But it isn't the same kind you do laundry with. Detergents — also called surfactants, because they act on the surfaces of liquids — help to loosen and break down deposits on your teeth, which can then be rinsed away. Like other health and beauty products, many toothpastes use a gentle detergent, derived from coconut or palm kernel oil, called sodium lauryl sulfate.
True of false: Whitening toothpastes work, to some degree, on all stains. FALSE
Whether the whitening agents in toothpaste will work for you depends on why your teeth don't look white in the first place. The abrasives and enzymes in these toothpastes can help remove "extrinsic" stains: those on the surface of your teeth. But for "intrinsic" stains — that is, internal discoloration — they probably won't help. In that case, you may need to get professional bleaching treatments.
True of false: Toothpastes made for sensitive teeth have substances that block pain transmission. TRUE
Potassium nitrate and strontium chloride can block the sensation of pain that may occur when dentin — the material that makes up most of the inside of teeth, and is normally covered by enamel — becomes exposed. Fluoride, too, helps reduce sensitivity. But the benefits of reduced tooth sensitivity may take a few weeks to really be felt.
If you have questions about toothpastes or oral hygiene, please contact us or schedule an appointment for a consultation. You can learn more in the Dear Doctor magazine article "Toothpaste — What's In It?"