Posts for: January, 2013
By James E. Mikula
January 24, 2013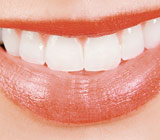 When you have your teeth bleached in a dental office, the results almost seem like magic. Let's push aside the magician's cape and see what is really happening in professionally-applied, in-office tooth whitening.
How do teeth become discolored?
A tooth's enamel covering is mostly composed of mineral crystals. At a microscopic level, you can see a framework or matrix of organic (living) matter interspersed between the crystals of enamel creating a very irregular surface capable of retaining stains. Chromagenic (color generating) organic compounds can become part of this organic matrix resulting in tooth staining. They can be bleached without affecting the mineral structure of the tooth's enamel.
As people get older and their teeth wear, the enamel loses its youthful translucency and the underlying layer, called dentin, thickens and becomes more yellow. Such changes to the actual tooth structure are called intrinsic staining. Other causes of intrinsic discoloration are exposure to high levels of fluoride or tetracycline antibiotic administration during childhood, tooth decay, or root canal problems, among others. Discoloration can also be caused by external staining from certain foods, drinks, or tobacco products. Such surface stains are called extrinsic staining.
Behind the Magic
Materials used for tooth bleaching are hydrogen peroxide and carbamide peroxide. Peroxides are commonly used as bleach, and you may have seen them used as hair bleaches, for example. Hydrogen peroxide is a strong oxidizing agent that attacks the organic molecules responsible for tooth discoloration, bleaching them until they lose their color. Carbamide peroxide also contains urea, which is a compound that permits the peroxide to remain in contact with the teeth for longer amounts of time without harming them.
Often called power bleaching, the in-office technique uses a high concentration of peroxide solution (35-45% hydrogen peroxide), placed directly on the teeth in the form of a gel. A heat or light source may enhance the peroxide release. The gel is applied with trays custom fitted to your mouth, and specific barriers are applied to protect sensitive gum tissue from the solution. Results show teeth becoming up to ten shades lighter in about an hour.
In-office bleaching under the supervision of my staff and me is recommended if you have severely stained teeth, and particularly if you are about to have veneers or crowns made. It's a way to rediscover the pearly translucency of your youthful smile.
Contact us today to schedule an appointment to discuss your questions about tooth bleaching. You can also learn more by reading the Dear Doctor magazine article "Teeth Whitening."
By James E. Mikula
January 12, 2013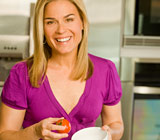 Cat Cora is a world-class chef, restaurateur, best-selling author, and philanthropist — on top of being the first female chef on the hit television show Iron Chef America. She is also the mother of four active young sons. And while all these important roles require her daily attention, she makes oral health a top priority for herself and her family through diet, brushing, flossing and routine visits to the dentist.
During a recent interview with Dear Doctor magazine, Cat revealed that she had her wisdom teeth removed when she was in her thirties and another tooth extracted and replaced with a dental implant. When asked to compare the two experiences, Cat said that the implant was "much easier for me." She went on to say, "It feels very natural" and "now, I don't even think about it."
Some may be surprised by Cat's response; however, we find it to be a quite common one.
There is no question that over the last two decades, dental implants have revolutionized tooth replacement and the field of dentistry. A dental implant, used to replace missing teeth, is placed in the jawbone with a minor surgical procedure. What's amazing is that over time these dental implants actually fuse with or integrate into the bone, thus making them an ideal permanent solution for replacing a missing tooth. They are typically made of commercially pure titanium, a substance that has been used for medical and dental implants for years. The crown, the part above the gum tissues, is attached to the implant via a retaining screw and a connecting piece called an abutment. The crown itself is artistically crafted using porcelain to mimic the look and feel of a natural tooth — just as Cat Cora describes.
To learn more about dental implants, continue reading the Dear Doctor magazine article "Dental Implants, Your Third Set of Teeth." Or you can contact us today to schedule an appointment so that we can conduct a thorough examination and discuss what treatment options will be best for you. And to read the entire interview with Cat Cora, please see the article "Cat Cora."